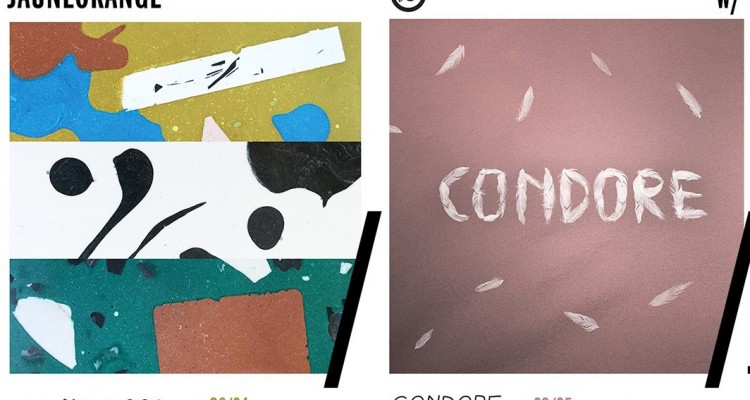 Romain Cupper

+

Condore

+

John Moods

+
CONDORE – http://www.condore.be
Léticia Collet délaisse temporairement Dan San et Noa Moon et prend son envol avec son projet solo énigmatique Condore. Elle déploie délicatement, sur son premier EP «Jaws», un univers intime et une identité forte.
Dans un vol hypnotique, Condore décrit en quatre titres une pop lo-fi concise faite de notes de clavier, d'arpèges atmosphériques et d'une voix envoûtante.
Artiste complète et totale, c'est seule et à la maison que Léticia a confectionné et assemblé son disque, pièce par pièce, en tête à tête avec son piano. Chaque morceau est une retranscription sonore de sa personnalité aussi sensible et fragile que saturée de rage et de passion. Elle s'y investit pleinement et dévoile une part d'elle-même. Via ce processus créatif, elle extériorise ses pires démons de la manière la plus douce possible.
ROMAIN CUPPER – https://romaincupper.bandcamp.com/
Romain Cupper renverse la pop en croisant ses références indie à un chant providentiel sous autotune. Véritable révolution copernicienne, où des symboles mainstream transcendent un folk/funk nonchalant, "A Good Boy" est un mélange ultra hybride d'influences ultra débridées !
C'est par le choc, par la rencontre d'univers à priori incompatibles que naissent les plus belles créations et les plus impressionnantes créatures. En adoptant l'usage "unanimement controversé" de l'autotune, Romain a pris le risque de confronter les formats. Il fait un choix, prend un angle différent, gagne de l'altitude et sublime le logiciel par la nature et la beauté de sa voix. Le numérique devient organique.
Ce premier EP déverrouille les codes de la musique dite "alternative" et pose l'acte d'une pop futuriste singulière. Romain Cupper n'y développe pas qu'un son, il y dévoile une partie de lui même. Ouverture sur son intimité, "A Good Boy" aborde en six titres l'amour et la confiance (If you try hard enough, Hold me down), le désespoir et la séparation (Painkiller, I'll be gone), l'envie, le désir et le besoin (In the meantime) sans oublier la solitude de son animal de compagnie, condamné chaque jour à attendre le retour de son maitre (Locked in the House) ! La créature est belle, les créations sont impressionnantes.
JOHN MOODS – https://johnmoods.bandcamp.com/
John Moods est le projet solo de Jonathan Jarzyna du groupe pop berlinois expérimental Fenster. Il a sorti son premier album The Essential John Moods, qu'il a enregistré sur son téléphone cellulaire en voyage, au début de 2018, sous étiquette Mansions and Millions. Ses chansons sont philosophiques et mélodiques, ludiques et sincères, avec de subtiles touches d'humour dans les arrangements, les paroles ou l'instrumentation. Réminiscence d'auteurs-compositeurs du passé comme Jim Croce, Carol King, The Roches, Glen Campbell ou Townes Van Zandt.
Une soirée à ne pas manquer. Alors bloquez déjà la date et on se retrouve là-bas !
Ouverture des portes : 20h
Prix : 10 euros